Achieve Greater Efficiencies with UiPath Automation
At AG Consultancy, we have deep expertise in RPA consulting. We are regarded as industry leaders in delivering high-quality RPA solutions that address specific needs, such as master data creation.

Our RPA consulting services consist of industry expertise and extensive knowledge of SAP to provide bespoke improvements to your industry processes. A natural extension for us in this area is UiPath, which provides us with further depth and flexibility to offer pragmatic, innovative, and agile services that accelerate the speed and efficiency of your business.

If you're interested in learning more about our RPA services and are keen to understand how they can be applied to your business, please don't hesitate to contact us.
Certified and trusted by UiPath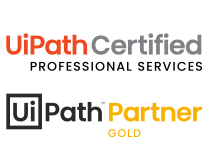 Being a UiPath Gold partner signifies that we establish a high level of experience in RPA, deliver sales and have the specialised technical expertise to deliver UiPath hyper-automation platform solutions.
"Thanks to AG's automation solutions, we have greater financial accuracy and much happier, more productive employees!"
People & Process Transformation Lead
Empowering Enterprises on their Intelligent Automation Journey
Discover automation-fueled digital transformation with the UiPath Business Automation Platform, Your most trusted partner in producing an intelligent automation ecosystem to furnish
best-in-class
implementation for your business. We provide exceptional business significance to large corporations through our advanced intelligence platform and components powered by AG's proprietary technology and seamless bidirectional integration with
UiPath
.
Fast-Track your business with UiPath Automation
Discover new methodologies and opportunities for process and task advancements, enabling you to identify the highest ROI scopes.
Process Mining
Achieve comprehensive clarity in your business operations and transform them with automation and advancements that compel continued operational enhancements.
Task Mining
Obtain an ideal, data-driven panoramic view of desktop functions and processes faster and with fewer resources required; then action-acquired insight via automation.
Communications Mining
Source, monitor, and automate service discussions to mount processes efficiently and enhance the experience of your clients.
Idea Capture & Management
Centrally apprehend and handle automation notions and functional advancements, prioritised by effect and ROI
What we do for your automation journey
Save time and effort
UiPath simplifies methodologies to discover efficiencies and deliver insights, constructing the route to your digital transformation fast and cost-effective.
Ensure compliance
UiPath robots enhance compliance by tracking the actual process that completes your measures. Reporting tracks your robots, so documentation is always accurate and quick
Enhance your employees' experience
By automating assignments, your teams can finish work on time with more profitable returns. You can check our vast list of automated features in our UiPath Store
Improve User Experience
With robots managing tasks, teams are free to provide extra assistance to your highest-level clients. By regularising functions, your outcomes are more advanced and effective.
Intelligent Document Processing Solution
Intelligent Document Processing
Let go of the manual paperwork with a semantic interpretation of an expansive range of documents—accurately and fast.
Easy setup, quick start
Best-in-class intelligent document processing
No Maintenance
Best-in-class intelligent document processing
High Scalability
Free from tedious back-office work with our document intelligence platform.
Recent Customer Success Stories
Oil & Gas
As part of their digital transformation program, this innovative, progressive and forward-thinking UK-based upstream Oil & Gas company identified a myriad of SAP processes which were excellent potential for automation. Read on to hear how with AG's help as SAP and RPA experts this client are now well on their way with UiPath RPA solutions in place across numerous SAP Finance, Supply Chain and Maintenance processes.
Our goal was to help exploit RPA's true potential; by first identifying potential use cases, prioritising these and then directly automating 'quick-win' business cases. These use cases were then delivered using UiPath's ground-breaking Hyper-Automation platform to help drive operational efficiency. The business believed in the strategic importance of pursuing an RPA initiative within their wider Digital Innovation program, but they were looking to turn their ideas into tangible results
Global Energy
The company needed to tackle a massive backlog of open Purchase Orders, some dating back nearly ten years. However, the task was daunting, time-consuming and labour-intensive. They were keen to improve this cumbersome, manual process and automate it to reduce the excessive time their accounting teams were spending significantly.
This 'Use Case' was identified as a great opportunity to drive efficiency improvements through Automation using UiPath RPA. Following a detailed review of the business rules and logic to be applied, AG delivered a solution where the robot understood the type of PO, applied all business logic to validate if the PO could be closed, and then created a list of all open purchase orders.
"Thanks to our RPA initiative, we have reduced workload, improved operational efficiency & reduced risks – for us RPA is now a primary tool for driving our digitalization & Innovation agenda…."
People & Process Transformation Lead
Transportation & Logistics


SAP Gold Partner
Recognised by SAP to have the in-house expertise to maintain exceptional levels of customer satisfaction, solution quality, and service delivery.
UiPath
Widely recognised as the leading Robotic Process Automation toolset. AG are a premier UiPath partner – incl. providing BPO services.



SAP Cloud Platform
The SAP Cloud platform is one of the core pillars powering SAP Business Technology Platform (SAP BTP) and has become a key element within their broader platform offering.
Microsoft Azure
The leading Enterprise Cloud Platform for building, deploying and managing applications (incl. SAP infrastructure hosting).
AWS
AWS is helping businesses scale and grow. We can build flexible, reliable and scalable SAP applications with their offering of computing power, content delivery, database storage and other functionality.