Centralise, manage and accelerate automations with UiPath Automation Hub.
UiPath Automation Hub is a cutting-edge collaborative tool that facilitates the identification, management, and repository of processes for automation. This powerful platform aims to expedite the adoption of Robotic Process Automation (RPA) throughout your organisation by fostering a vibrant RPA Community of Interest. By leveraging UiPath Automation Hub, you can accelerate the implementation of RPA initiatives, enhance collaboration among teams, and streamline the automation pipeline. This tool empowers your organisation to unlock the full potential of automation, driving efficiency, productivity, and innovation.
Certified and trusted by UiPath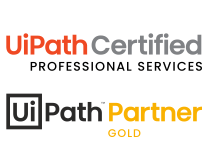 Simplify Automation Discovery and Management with a UiPath Automation Hub.
UiPath Automation Hub empowers you to crowdsource automation ideas and harness the power of data-driven discovery through Process Mining, Task Mining, and Communications Mining, while providing a centralized platform to track and manage the entire automation journey from idea to production, ensuring complete visibility and control.
UiPath Automation Hub in Action
Benefits of UiPath Automation Hub
Empowering Enterprises on their Intelligent Automation Journey
All in One
UiPath Automation Hub offers a centralised platform where you can conveniently access all the essential information in one place and gain total visibility and control over ideas.
Enhanced Visibility
The platform provides real-time visibility into automation processes, allowing for better monitoring and control.
Streamlined collaboration
Facilitates seamless collaboration enabling efficient communication and knowledge sharing. The platform enables users to share best practices, learn from each other, and drive innovation.
Robust Governance
UiPath Automation Hub offers robust governance features, ensuring compliance and control over automation processes.
Experience Seamless Implementation of UiPath Automation Hub with AG
Being a UiPath Gold Partner, AG brings a comprehensive set of advantages and expertise to the table when it comes to implementing UiPath Automation Hub. By choosing AG, you are partnering with a company that has a proven track record in successfully implementing automation solutions. Our Gold Partner status ensures that we have deep knowledge and experience with UiPath's products and tools, giving you confidence in their ability to navigate any challenges that may arise during the implementation process. Furthermore, AG's partnership status grants us exclusive access to UiPath's invaluable resources and support. This helps us deliver an exceptional solution that meets your unique business requirements.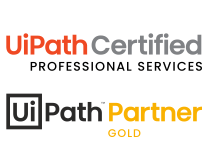 Recent Customer Success Stories
Oil & Gas
As part of their digital transformation program, this innovative, progressive and forward-thinking UK-based upstream Oil & Gas company identified a myriad of SAP processes which were excellent potential for automation. Read on to hear how with AG's help as SAP and RPA experts this client are now well on their way with UiPath RPA solutions in place across numerous SAP Finance, Supply Chain and Maintenance processes.
Our goal was to help exploit RPA's true potential; by first identifying potential use cases, prioritising these and then directly automating 'quick-win' business cases. These use cases were then delivered using UiPath's ground-breaking Hyper-Automation platform to help drive operational efficiency. The business believed in the strategic importance of pursuing an RPA initiative within their wider Digital Innovation program, but they were looking to turn their ideas into tangible results
Global Energy
The company needed to tackle a massive backlog of open Purchase Orders, some dating back nearly ten years. However, the task was daunting, time-consuming and labour-intensive. They were keen to improve this cumbersome, manual process and automate it to reduce the excessive time their accounting teams were spending significantly.
This 'Use Case' was identified as a great opportunity to drive efficiency improvements through Automation using UiPath RPA. Following a detailed review of the business rules and logic to be applied, AG delivered a solution where the robot understood the type of PO, applied all business logic to validate if the PO could be closed, and then created a list of all open purchase orders.
Transportation & Logistics


SAP Gold Partner
Recognised by SAP to have the in-house expertise to maintain exceptional levels of customer satisfaction, solution quality, and service delivery.
UiPath
Widely recognised as the leading Robotic Process Automation toolset. AG are a premier UiPath partner – incl. providing BPO services.



SAP Cloud Platform
The SAP Cloud platform is one of the core pillars powering SAP Business Technology Platform (SAP BTP) and has become a key element within their broader platform offering.
Microsoft Azure
The leading Enterprise Cloud Platform for building, deploying and managing applications (incl. SAP infrastructure hosting).
AWS
AWS is helping businesses scale and grow. We can build flexible, reliable and scalable SAP applications with their offering of computing power, content delivery, database storage and other functionality.