SAP Field Logistics
Optimise
your Logistics Operations with SAP Field Logistics
As a leading SAP Gold Partner, we excel at transforming the management of Offshore Logistics by seamlessly transitioning it from SAP Remote Logistics Management (RLM) to the advanced and enhanced SAP Field Logistics.
SAP's Legacy Solution SAP Remote Logistics Management (RLM) which caters the Offshore Planning and Logistics, is currently running as a compatibility pack in S/4HANA with end of support by Dec 2025.

SAP Field Logistics is a powerful solution designed to assist industries in seamlessly managing their Offshore logistics activities. It offers comprehensive capabilities for handling Stock, Non-stock, and Rental Items and helps Businesses gain complete control over their logistics operations, ensuring accurate reporting and enhanced visibility within the Offshore Logistics Management.

Field Logistics Roadmap for SAP S/4HANA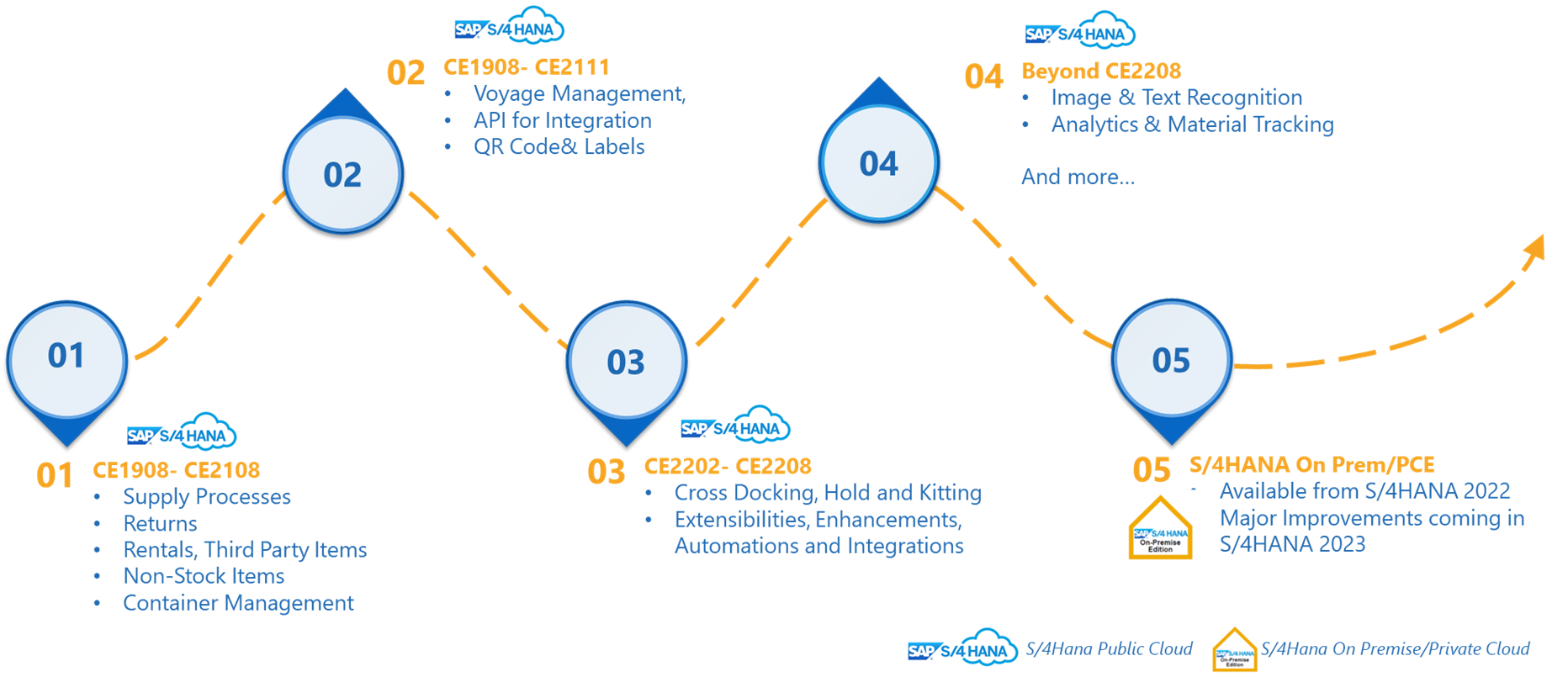 COMPLEMENTS MATERIAL REQUIREMENTS PLANNING (MRP)
Supply Processes replicates Offshore Stock handling scenarios which aids MRP by generating demands at right locations (Base or Platform), enabling automated planning and reduce manual efforts and improves planning efficiency.
UNIFIED RECEIVING PROCESS
App Process Receipts- Stock and Non-Stock Items provides unified receiving solution for Stock, Non-Stock, Rental and Third-party items along with automation of follow-on documents to enable logistics/warehousing.
INTUTIVE AND SIMPLIFIED MANIFEST
Field Logistics provides a quick overview and navigation to various associated objects (like Containers and Deliveries) improves operational efficiency.
FIORI APPS FOR MANAGING OFFSHORE LOGISTICS
Field Logistics Apps are enabled for Tablet/Handheld, which along with system guided processing improves ease of usage at Platform/Rigs with coarse weather conditions.
IMPROVED SUPPLY CHAIN TRACKING
Field Logistics enables Material tracking along the logistics processes with the improved manifesting. Stock materials can still be tracked Offshore until the actual consumption contrary to standard MRP or RLM.
ENHANCED WAREHOUSE PROCESSES
Direct Procurement material on receipt at Warehouse is automatically cross docked to Platform. Warehousers can effectively differentiate Material for stock vs Cross Dock, providing clear directions to Warehousers.
The AG Advantage
AG, as SAP Gold Partner along with proven experience in Offshore Logistics, we have supported our clients on
Field Logistics - New Implementation
Migration from RLM to Field Logistics
Field Logistics - Assessment and Process Redesign


Offshore Logistics Best Practices
AG has collaborated with prominent clients in the energy and mining industries to tackle offshore logistics challenges and has successfully integrated industry best practices into a comprehensive package.
Document Repository
Accelerate your Field Logistics implementation with ready-to-use templates sourced from the AG Document Repository, including Configuration Guides and Test Scripts. Leverage these resources to fast-track your journey and achieve optimal results.
Field Logistics Model Company
As an SAP Gold Partner, AG has partnered with SAP to successfully implement the Best Practices Package in a highly adaptable Model Company environment. This collaborative effort ensures that the implemented solutions are readily available for reuse, providing utmost convenience and optimal efficiency.
Rapid Deployment Methodology
Experience the seamless implementation of our Field Logistics Solution, designed to be up and running in no time. With our AG's Rapid deployment Methodology, you can kickstart your operations in just 6+ weeks.

Supported SAP Supply Chain Management products
SAP Extended Warehouse Management
Inbound logistics management
Storage and operations
Outbound logistics management
SAP Transportation Management
Strategic freight management
Order management
Transportation planning
Transportation execution
SAP Logistics Business Network
Freight logistics collaboration
Global track & trace
Real-time alerts and notifications
SAP Yard Logistics
Order and appointment planning
Yard execution and processing
Integration and monitoring
SAP S/4HANA for advanced ATP
Efficient stock management
Effective product availability management
Intelligent selection of alternatives
SAP Transportation Resource Planning
Transportation resource tracking and monitoring
Empty resource movement optimisation
Transportation resource planning
Supply and demand forecasting
Event-triggered alerts