Mastering Supply Process Planning: Your Guide to SAP Field Logistics Excellence

Continuing our Field Logistics Blog series, we now delve into the intricate world of SAP Field Logistics Supply Process Planning. If you haven't had the chance to catch up on our previous blog posts, take a moment to revisit them and discover the transformative journey of Field Logistics. Our previous blog post provided an in-depth analysis of the different aspects of warehousing highlighting its key features. In today's blog, we will explore into the supply processes defined in Field Logistics and explore the advantages of incorporating versions within each of these processes.
SAP Field Logistics Supply Process Planning entails the ongoing review of orders within the pipeline to safeguard the timely availability of materials for various tasks. The use of supply processes with version maintenance allows flexibility in switching between stock and non-stock supply strategies without altering material master parameters. This aids in the optimisation of material availability and enhances the efficiency of supply chain management.
Enhanced Supply process in Field logistics from Remote logistics management
In remote logistics management, we have four supply processes which gets determined from the MRP settings in the material master. In Field logistics, these supply processes are enhanced with different versions to cater to specific needs. Additionally, a new supply process, SP15, has been introduced to handle requests for generic items or items without specific material master entries. This approach aims to provide a more comprehensive and adaptable logistics solution in the context of remote and field operations.
To gain a comprehensive understanding of the transformative journey of Field Logistics, you can delve into the in-depth exploration of Field logistics transformation here.
Supply process in Field logistics
The SAP Field Logistics Supply Process (SP) provides consolidated planning (Base and Remote Locations) and enhances MRP with various Stock Handling options, as in below.
1

SP11: Stocked at Base and Remote Locations

2

SP12: Stocked at Base Location only

3

SP13: Stocked at Remote Location only

4

SP14: Direct procurement (no stock at Remote or Base Locations)

5

SP15: Non-stock items
Documents created for the appropriate supply processes in Field logistics are at the time of raising demand on work order: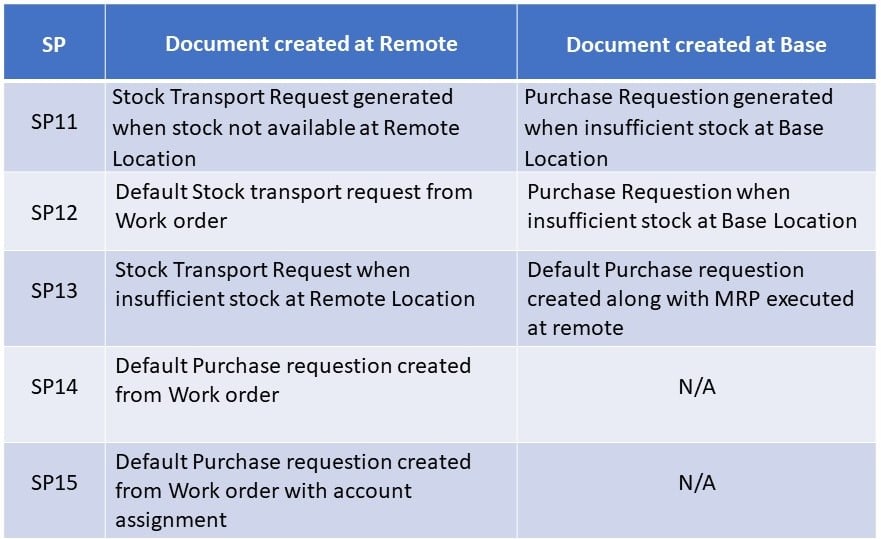 Supply Process version in Field Logistics
Supply process that leverages versioning to provide flexibility in handling different scenarios based on item categories and procurement types. By selecting the appropriate item category and procurement type, specific supply process versions are triggered, and follow-on documents such as stock transport requisitions or purchase requestions are generated to ensure the timely procurement and allocation of materials for maintenance tasks. This approach optimises the logistics and supply chain management process for efficient and effective operations.
Now, let's dive into a real-life example of how version management can bring versatility to a specific supply process, the Supply Process SP11, and examine its impact on the logistics flow.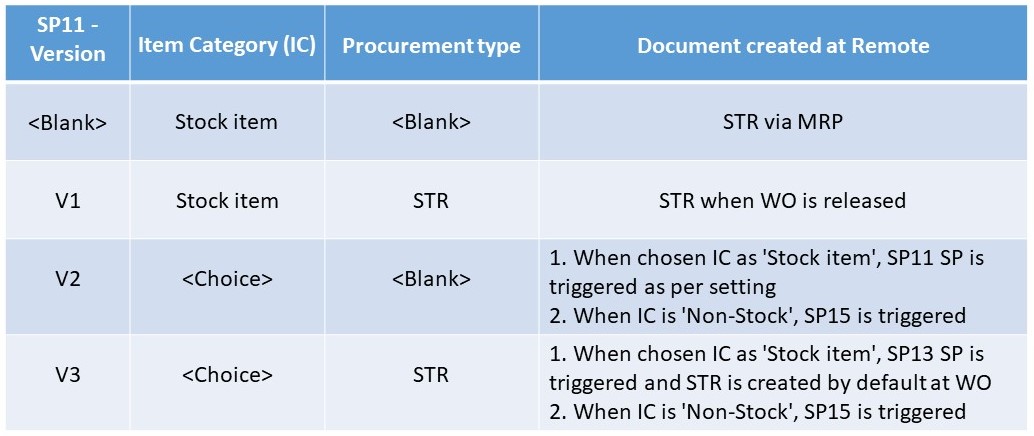 Key benefits with the Supply Process with versions in SAP Field Logistics
Flexibility and Customisation
Supply processes with versioning allow for tailoring the logistics approach to different scenarios and requirements. By having multiple versions, you can choose the one that best fits the specific needs of each situation, whether it's related to item categories, procurement types, or other factors.
Adaptable to Changing Requirements
Businesses often encounter changes in demand, supplier availability, or internal processes. Having versioned supply processes enables quick adjustments without making extensive changes to the core logistics structure. This agility is particularly valuable in dynamic industries.
Reduced Manual Intervention
With versioned supply processes, many decisions are automated based on predefined criteria like item categories and procurement types. This reduces the need for manual intervention and streamlines the execution of logistics operations.
Consistent Documentation
Each version of the supply process can have its own set of documentation and guidelines. This ensures that employees follow standardized procedures, reducing errors and improving overall process consistency.
Reservation of Stock
Through non-stock procurement for specific projects or shutdown activities is a strategic approach that ensures timely availability of materials, prevents shortages, and optimizes resource allocation.
Hope that this reading has provided you with valuable insights into the advantages of supply process versioning in Field Logistics. If you are eager to delve deeper into each supply process and versioning, we invite you to our webinar 'Transform your Remote Logistics with SAP's Field Logistics Solution' happening on the 15th of November @ 2 pm GMT. We are happy to show you first-hand how these processes can optimise your operations.