Automate and Elevate Your Business with UiPath Document Understanding

UiPath Document Understanding offers a comprehensive solution to streamline and automate your mundane processes, bringing operational efficiency and reducing the risks of human error.
Whether you're dealing with structured, unstructured, or semi-structured documents, this cutting-edge software empowers your business to excel.
Certified and trusted by UiPath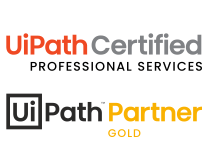 What does UiPath Document Understanding do?
From Chaos to Order: UiPath Document Understanding
Understanding smart document classification and accurate data extraction.
Taxonomy
Ensures streamlined accessibility and retrieval of documents across departments such as Accounts, IT, Marketing and HR.
Digitisation
Transforms analogue documents into digital assets, paving the way for efficient data extraction and manipulation.
Document Classification
Utilises advanced AI technology to efficiently and precisely categorise diverse document types.
Document Classification Validation
Ensures precision by validating the AI-driven document classification, minimising errors.
Classification Training
Trains the system to enhance accuracy in effectively classifying diverse documents.
Data Extraction
Extracts valuable data effortlessly from documents, saving time and ensuring accuracy.
Data Extraction Validation
Verifies extracted data's accuracy and relevance, thereby enabling informed decision-making.
Data Extraction Training
Trains the system to improve data extraction accuracy and efficiency consistently.
Data Consumption
Utilises the extracted data for informed business decisions, driving growth and efficiency.
Features of UiPath Document Understanding
From autographed papers to scanned records, you can now automate repetitive tasks, freeing your team for strategic initiatives for
smart solutions
and elevating operational efficacy.
Versatile Document Processing
The platform efficiently processes all types of documents, including structured forms and unstructured contracts.
Smooth Data Extraction
With this AI-powered solution, the process of extracting valuable data from structured, unstructured, or semi-structured documents becomes remarkably smooth.
Automates Repetitive Processes
From signatures to scanned documents, it handles repetitive tasks, enabling the employees to focus on more strategic activities.
Advanced Processing
It undertakes advanced navigations and data extraction processes to seamlessly transcend various business processes concerning catalogues, forms, and requests.
Enhanced Verification
From cross-referencing invoices to validating passports and PAN cards, it guarantees the precision and integrity of your data, making your work smoother.
In-depth Interpretation
It transcends mere data scraping by interpreting information, extracting significance from scanned documents, and transforming them into actionable insights.
Categorises with Precision
It intelligently identifies the nature of each document, comprehends the relevant business process, and seamlessly integrates with UiPath Studio.
Single Workflow Integration
It makes the process of extracting data as easy as possible by creating one single workflow that will extract data from various documents.
We understand the pain points of dealing with a variety of documents every day. Revolutionise your workflow today!
Immediate Results
Experience rapid process optimisation.
Unmatched Accuracy
Eliminate interpretation errors with the power of AI.
Cost Efficiency
Cut operational costs and avoid losses.
Enhanced Customer Experience
Elevate customer interactions.
Empower Employees
Free up time for high-priority tasks.
Versatility and Flexibility
Tailored to your business needs.
Independent and Competent
We offer practical, proven solutions that elevate customer convenience.
Source: https://www.uipath.com/product/document-understanding
Let us help your automation initiatives to success!
SAP Gold Partnership
As an SAP Gold Partner, we have proven experts in integrating UiPath Document Understanding into SAP environments.
Comprehensive Services
We offer end-to-end services, from assessment and deployment to training and ongoing support.
Exceptional Client Support
AG's commitment to exceptional service ensures that your queries and challenges are promptly addressed.
Tailored Solutions
We work together to develop customised solutions that align with your requirements.
Informed Tech Choices
Our team has extensive expertise in software, OCR engines, and ML models, assisting you in choosing the best solution.
Intelligent Document Processing of your everyday workflows
If you are looking for a powerful tool to automate your document processing tasks, then UiPath Document Understanding is the perfect solution.
Integrate UiPath Document Understanding into your business operations, streamline processes effortlessly, and experience the remarkable transformation.
Get in touch with AG today and begin your path towards unmatched efficiency and growth.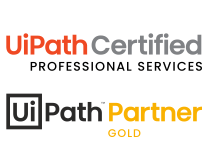 Transportation & Logistics