SAP for Manufacturing Excellence

Delivering products that are not just smart but seamlessly interconnected!
Experience Manufacturing Transformation with SAP Solutions.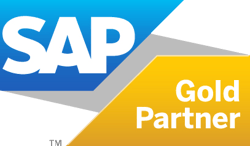 Preparing for a Sustainable Future of the Manufacturing Industry
From supply chain disruptions to shifting customer demands, the manufacturing industry is constantly facing a barrage of hurdles that can make or break companies. Imagine a world where manufacturing processes are seamlessly orchestrated, where data-driven decisions are made in real time, and where productivity reaches new heights. This is the promise of SAP solutions.
At AG, we provide comprehensive assistance to companies using SAP's Manufacturing software solutions, offering expert consultancy and support throughout the entire process.
SAP Digital Manufacturing Cloud
SAP Manufacturing Execution
SAP S/4HANA Manufacturing
SAP Manufacturing Integration and Intelligence
Areas in Manufacturing where SAP lends you a helping hand in overcoming challenges:
Overseeing Bills of Materials (BOMs)
Maintaining Inventory Control
Effectively Managing Cash Flow
Defending Against Low-Cost Labor Competition
Expediting Your Digital Transformation
Introducing Direct-to-Consumer (D2C) Channels wherever applicable

Success Wheel of Sustainable Industrial Ecosystems
By implementing these solutions, manufacturers can deliver individualised, sustainable, and smart equipment, products, and components – at scale and as a service.
The journey to success in manufacturing, particularly with the aid of SAP, revolves around four pivotal factors that drive sustainable industrial ecosystems.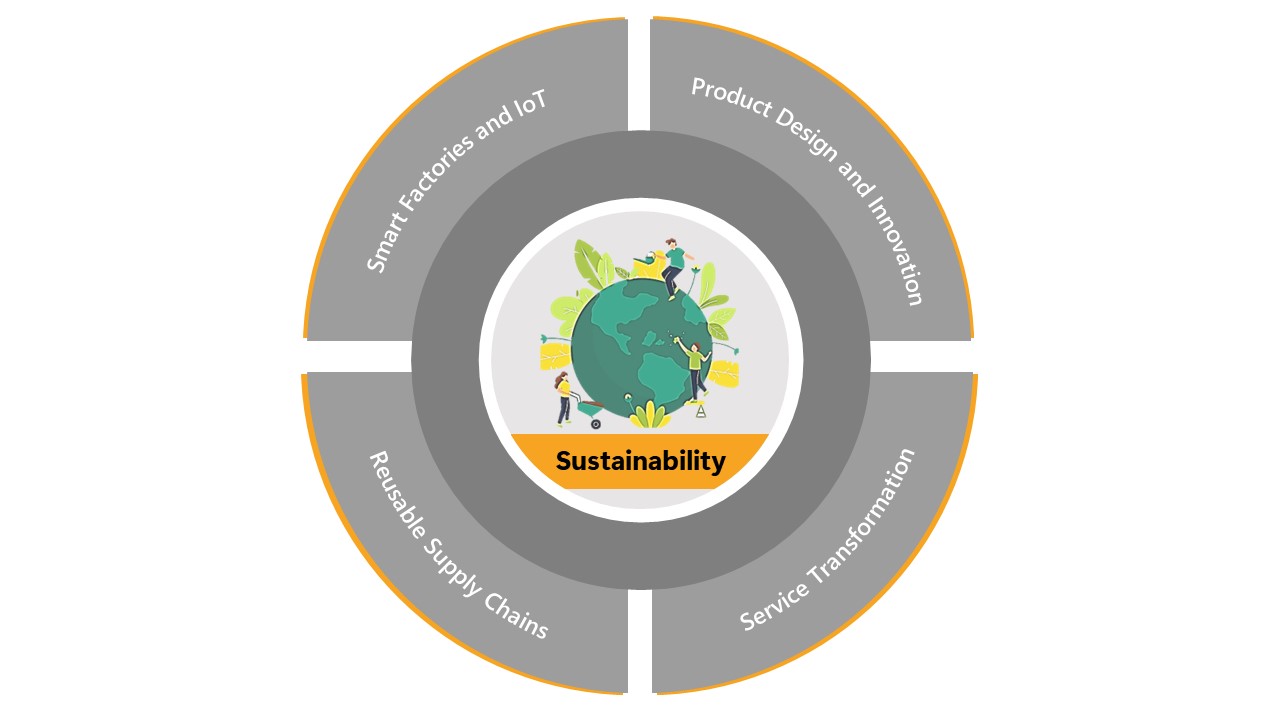 Smart Factories and IoT
With SAP, manufacturers can transform their factories into intelligent innovation hubs. Using IoT sensors enables precise monitoring and proactive maintenance, optimising production processes for increased productivity and minimised downtime.
Service Transformation
With the manufacturing sector shifting towards service-centric business models, prioritising sustainability is crucial. SAP empowers manufacturers to provide value-added services, enhancing customer experiences and promoting a more sustainable business model. With SAP, manufacturers can offer ongoing support, maintenance, and performance monitoring, fostering long-term customer relationships and generating revenue.
Product Design and Innovation
Manufacturers are now sustainability visionaries, crafting eco-friendly products with SAP's support. They choose sustainable materials, implement eco-labelling, and manage the product lifecycle to drive innovation and reduce environmental impact.
Reusable Supply Chains
A key element in achieving sustainability in the manufacturing sector is the concept of reusable supply chains. SAP's extensive expertise empowers the creation of carbon-neutral, transparent, and resilient supply chains. Through the optimisation of logistics, sourcing, and operations, manufacturers can effectively reduce their carbon footprint, minimise waste, and bolster sustainability across the entire value chain.
Our Customer Success Stories
"SAP Manufacturing has been a game-changer for us. It allowed us to streamline our production processes, reduce lead times, and improve product quality. We've seen a significant increase in efficiency, enabling us to meet customer demands faster and more reliably. Our partnership with AG for SAP Manufacturing has taken us from being a traditional manufacturer to an agile, tech-driven industry leader."
Operations Director
Leading Manufacturer in UK
"SAP Manufacturing solutions have transformed the way we manage our supply chain thanks to the assistance from AG's SAP experts. Real-time data insights and predictive analytics have empowered us to optimise inventory levels, reduce waste, and make smarter procurement decisions. Our inventory costs have dropped, and we've evolved into a more sustainable and cost-efficient manufacturing operation."
Supply Chain Manager
Leading Manufacturing Firm in UK
"SAP Manufacturing's integration of Industry 4.0 technologies has been a transformational experience for us. Our entire production process is now data-driven, improving product quality and traceability. Thanks to SAP's agility and AG's partnership, we've also become more responsive to market demands. The result? Our product innovations have made us a pioneer in the industry."
Production Manager
Leading Manufacturing Company in UK
"Our partnership with AG for SAP Manufacturing has been a journey towards greener operations. By adopting sustainable manufacturing practices and leveraging SAP's capabilities for tracking and reporting on environmental metrics, we've drastically reduced our carbon footprint. Not only have we enhanced our environmental responsibility, but it has also improved our brand image and helped us win new environmentally conscious customers."
Environmental Sustainability Officer
Leading Manufacturing Company in UK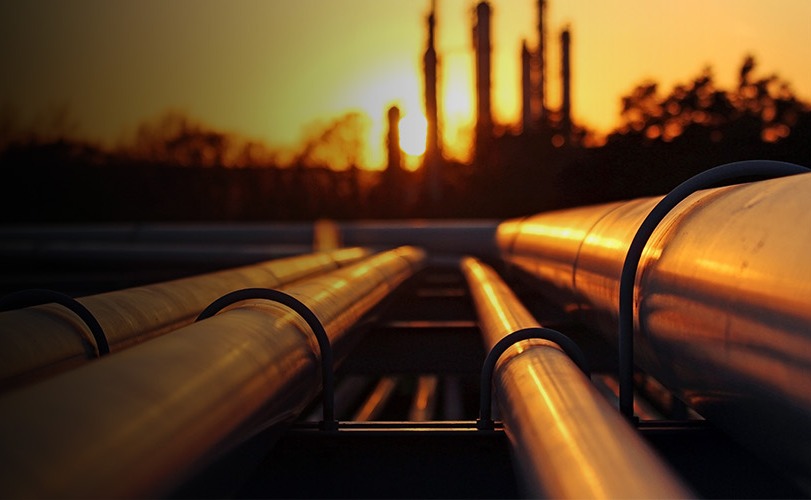 Centrica Storage Limited & AG:Teaming up to break site inspection barriers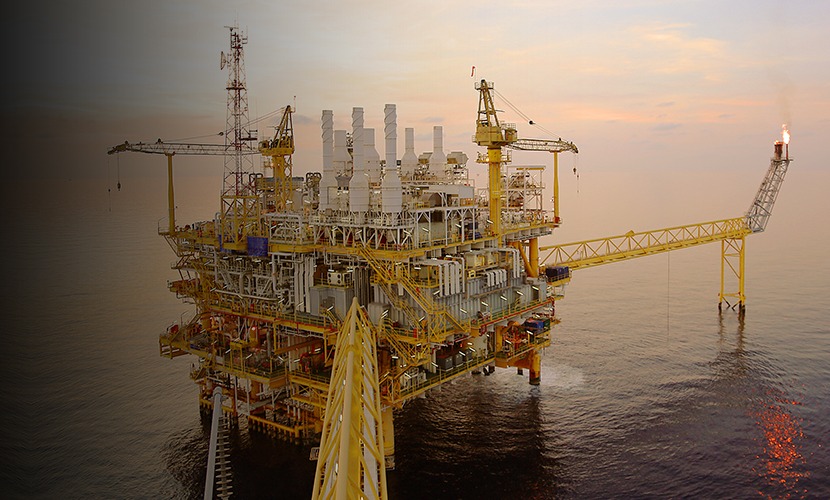 AG Appointed to Drive 11 Week SAP Asset Manager Implementation
Discover how we can enhance the efficiency of your industrial manufacturing business.
Explore the compelling grounds why manufacturing industries need to implement SAP solutions into their processes.
Seamless Integration: Minimising Disruption
AG ensures seamless integration of SAP Manufacturing into your existing processes, minimising any potential downtime and disruptions. This commitment allows you to maintain uninterrupted production and meet your customer commitments efficiently.
Customised Solutions: Meeting Unique Needs
AG's approach is based on the understanding that each business faces unique challenges. We do not promote generic solutions that try to fit all. Instead, our expertise lies in creating tailor-made SAP Manufacturing solutions that perfectly align with the specific requirements of your industry and organisation, guaranteeing a precise fit for your business.
Proven Expertise: The SAP Manufacturing Specialists
With a team of SAP Manufacturing specialists coupled with years of dedicated experience, we at AG offer a strong foundation in understanding and implementing SAP Manufacturing solutions, ensuring a reliable and efficient integration into your daily operations.
Data-Driven: Informed Decision-Making
In today's manufacturing industry, data is crucial for gaining a competitive edge. AG's services excel in utilising SAP's advanced analytics and real-time monitoring capabilities, delivering actionable insights that greatly improve process efficiency and competitiveness.
Adaptive Approach: Navigating Change with You
In an ever-evolving manufacturing landscape, our team of industry experts ensures your business stays nimble and versatile, guaranteeing your readiness for market shifts, technological advancements, and changing customer preferences.
Sustainable Focus: Pioneering Green Initiatives
Prioritising sustainability in our approach, our focus extends beyond profitability to include promoting environmental responsibility. By utilising SAP Manufacturing, we actively support your adoption of sustainable practices, reducing your carbon footprint and integrating sustainability into your manufacturing operations.
Related Solutions for Industrial Manufacturing