Do you have a high number of overdue Purchase Order items awaiting approvals? It means that purchase orders are not being processed in time. Under such circumstances, customers will not receive order confirmations on time. Subsequently, as in the dominos effect, this would create a gap in your product planning cycle without the correct estimate of products you have to deliver at a point in time. The fallout of a mismanaged Procure to Pay process can seriously hamper customer relations and affect the business in multiple ways. But this problem can be solved and risks avoided by implementing an effective monitoring system.
An AG-designed bot can automate all SAP transactions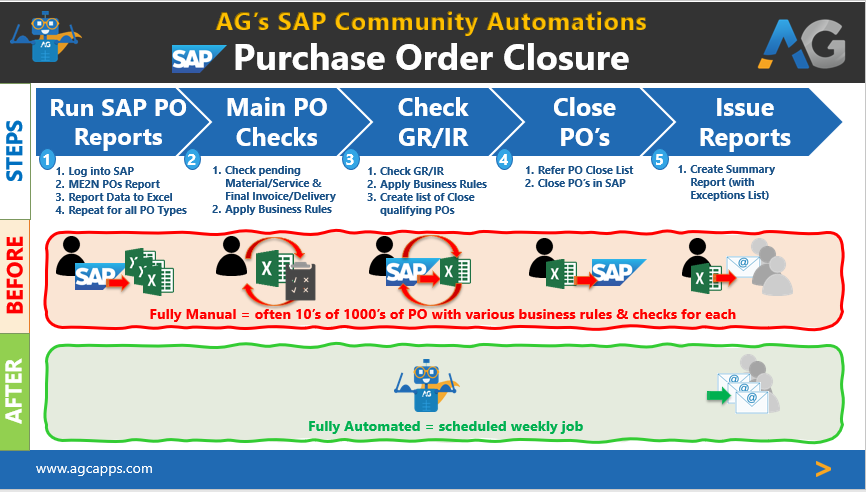 Scheduled Bot workflow
Triggers workflow based on a set schedule

Extracts list of POs and checks for closure based on given logic

Reports on the status of the workflow


Automated process reduces cost by up to 40%
Closes material POs, Service POs and Stock transfer orders

Whole process runs on business logic

Sends summary reports of Closed POs and Exceptions
Maintains an up-to-date ledger
Undertakes repetitive auditing tasks

Applies business logic to validate PO closure

Helps to focus on higher-value tasks
Enhaces data accuracy
Bot implements validation rules to ensure accuracy

Establish clear data governance procedures to maintain high accuracy

Assists in prioritizing core tasks with ease
At AG, we have developed The PO Closure bot powered by SAP Build (iRPA) solutions that automate regular business processes for material management and financial accounting. The Procure to Pay process runs on an automation framework configured to work within business rules based on the requirements. It can optimise and speed up business processes. Once automated, the process runs based on the planning made by an enterprise's material management and financial accounting department. An automation bot can create a faster approval and closure process by eliminating discrepancies from mistakes on paper or excel spreadsheets, wrong entries, and any mismatch of details in emails and records. The bot can check all the assigned parameters to work on and then automatically closes Material POs, Service POs, and Stock Transfer Orders on meeting key triggers.
Bot configuration steps
Bot logs into SAP
Runs SAP PO reports
Checks all PO types
Apply business rules
Creates closed PO list
Creates summary reports with exceptions
Bot overview
Business Process - Finance
Category - Account Payables
Automation Type: Unattended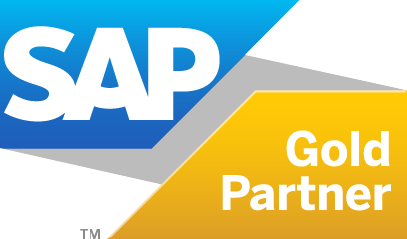 Saves 2000 hours of work every year
Helps to plan the purchases ahead of time

Speeds up the overall procurement process

Efficient handling of massive backlog of open POs
Transparency in business process
High visibility of the whole procurement process in one place

Better tracking of purchase orders provides better control of the process

Deters rogue spending
100 percent accuracy in work
Better document management with zero percent duplication of work

Handles multiple purchase requests making the approval and closure process faster

Streamlines activities for efficient handling
Minimum deployment time
Implements continuous integration to ensure faster deployment

Streamline communication and collaboration to avoid delays

Detect and troubleshoot issues on the go